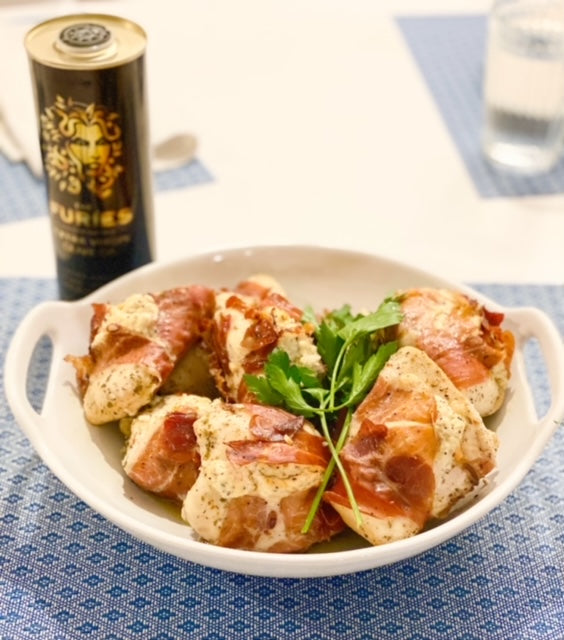 Chicken with Herbed Goat Cheese & Prosciutto
Looking for the just right dinner to make? This chicken with herbed goat cheese and prosciutto is delicious, surprisingly easy to make, and turns dinner into something spectacular!
Ingredients:
4 boneless chicken breasts
3T The Furies EVOO
2 cloves garlic
1t Furies Greek Mountain Oregano
1t rosemary
4oz herbed goat cheese
6oz prosciutto
salt & pepper
 Instructions:
Preheat oven to 375' and line a baking dish with parchment paper.
Rinse and pat dry chicken. Cut breast horizontally to make 2 roughly equal parts. Cut a 2" slit in the largest part 3/4 way through breast. Set aside.
In a small bowl stir goat cheese until softened. Sometimes I add a small splash of EVOO.
In another bowl, mix together EVOO, chopped garlic, and spices.
Roll each piece of chicken in EVOO spice mix and place in baking dish.
Using a spoon and your fingers fill the pocket with goat cheese.
Wrap each chicken with a slice of prosciutto. I hold the prosciutto in my hand, and place the chicken onto and wrap edges around.
Bake 20-25 minutes until internal temperature of 168'F and juices run clear.
Cooking
Nothing says I love you more than a steaming bowl of spicy seafood.  This presentation of the a classic dish is remarkably easy to prepare and comes out brilliantly every time.  Chock full of amazi...
Read more