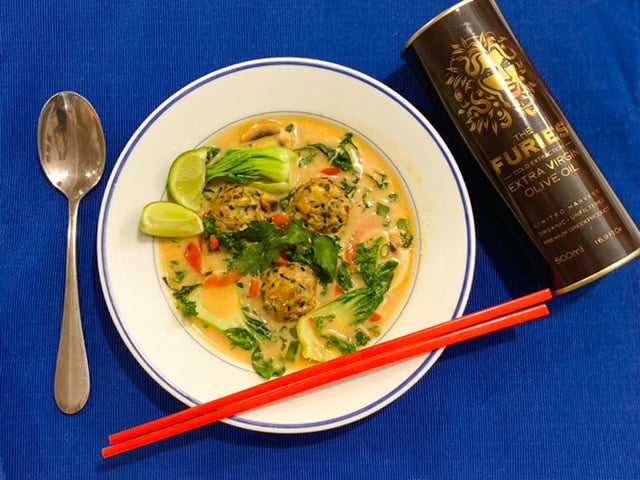 Thai Red Curry Soup with Sesame Turkey Meatballs
I fell in love with Thai food from a tiny restaurant named Sadudee in Watervliet, NY.  Ever since then, I have experimented with making Thai food at home.  As with much of cooking, being willing to leave your comfort zone is the first step to learning to make truly great food.  This recipe was inspired by a recipe found in Dr Mark Hyman's newest book, The Pegan Diet, Thai-Inspired Coconut Turkey Soup.  My version has a lot of added vegetables, spices, and of course EVOO.  I highly recommend trying them both!  My family loved the meatballs so much I plan to make them on their own.  We also served the soup over rice noodles making it a wonderfully filling meal.  Give yourself some time to make this recipe, but don't despair,  the end result is delicious and all of the steps are easy. Final note:  if you can't find fresh lemongrass or ginger, Gourmet Garden sells prepared paste that can be easily substituted.  I keep it stocked in my frig! Last Tip: keep the veggies separate from the soup until the very last minute.  This will keep them from overcooking!
Ingredients
Meatballs:
1lb ground turkey 
1 large zucchini, grated and liquid squeezed out
1 large carrot, grated
2 cloves garlic, chopped
3 scallions, chopped (reserve greens for garnish)
1T fresh or frozen ginger
2T cilantro, chopped
2T toasted black sesame seeds (regular sesame seeds can be substituted)
1 egg
1t sesame oil
1t EVOO
salt and pepper
Soup Stock:
1T EVOO
1t grated lemongrass or lemongrass paste
2t grated fresh ginger or ginger paste
2 shallots, minced
2 cloves garlic, chopped
2-3t Thai Kitchen red curry paste
1t Thai Kitchen roasted red chili paste
6 cups chicken stock
1 can unsweetened full fat coconut milk
1t lime juice & 1/4t lime zest
1t fish sauce
Last minute veggies and touches:
Baby bok choy
Baby kale, chopped
Red bell pepper, thinly sliced
White button mushrooms, thinly sliced
Fresh cilantro
rice noodles, prepared according to directions and flash cooled to prevent sticking
Instructions
Meatballs:
Preheat oven to 400'
In a large mixing bowl, stir together all ingredients. 
Chill in refrigerator for 10 minutes. 
Form into 2 inch balls. 
Place on parchment lined baking sheet and bake for 15-20 minutes when juices run clear.
Soup Stock:
While the meatballs are baking, make the soup stock.
In a large pot, heat EVOO over medium heat.  Saute shallots, garlic, lemon grass and ginger until lightly browned, about 1-2 minutes. 
Add chicken stock and bring to a boil.  Turn heat to simmer and cook for 15 minutes.
Stir in coconut milk and bring to temperature.  When hot, add curry paste, chili paste, lime juice and zest, and fish sauce.  Cook 10 minutes to incorporate flavors.  Feel free to add more curry paste and chili paste to taste.
Add meatballs and keep on simmer while you prepare veggies
Veggies and Rice noodles:
Prepare the rice noodles and set aside
Heat 1t of either sesame or EVOO in a saute pan.  Add kale and saute for 1 min.  Add bok choy, red peppers, and mushrooms and saute for an additional minute just until hot and slightly wilted.  Do not overcook.
To assemble:
Place desired amount of rice noodles in soup bowl. 
Ladle soup and meatballs on top
Add veggies and ladle another spoonful of broth on top
Garnish with cilantro and lime wedge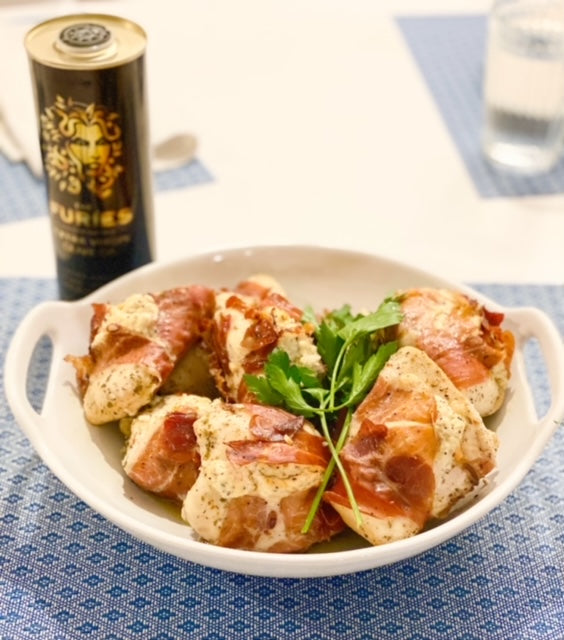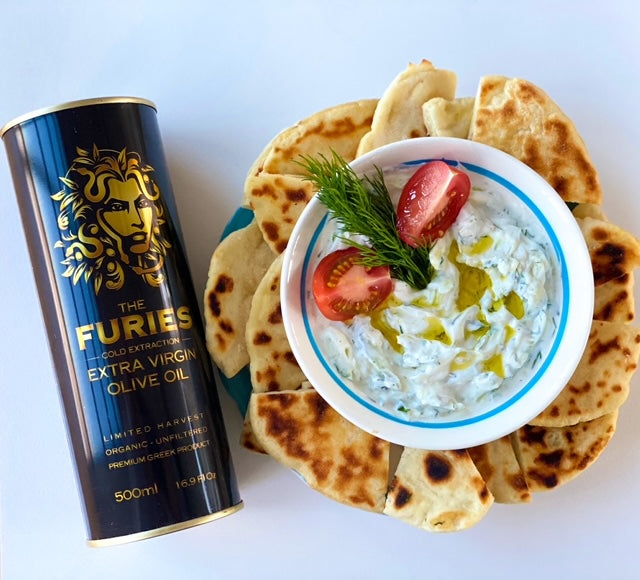 Cooking
Who knew that making flatbreads was so easy! This recipe comes together in a matter of minutes and uses ingredients that are most likely in your refrigerator and pantry already.  Greek yogurt is an...
Read more