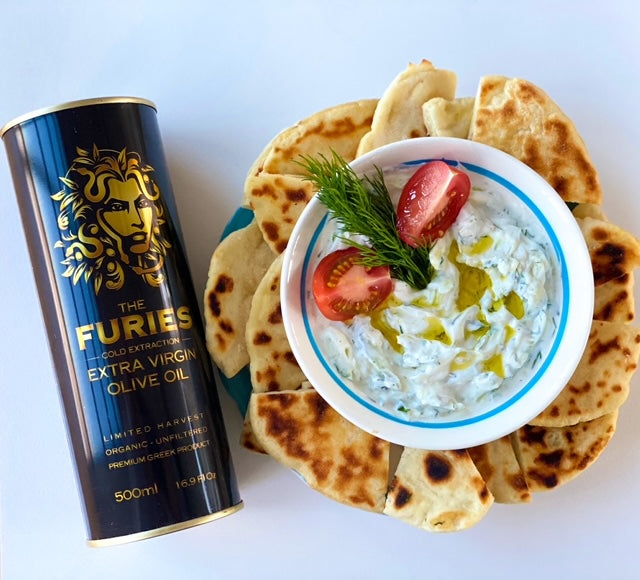 Greek Yogurt Flatbreads
Who knew that making flatbreads was so easy! This recipe comes together in a matter of minutes and uses ingredients that are most likely in your refrigerator and pantry already.  Greek yogurt is an excellent source of probiotics and gives the flatbreads great flavor and texture.  I used a large non-stick griddle pan to cook.  The trick is to keep the pan at a constant temperature over medium head to create the perfect browned color.  
Tzatziki recipe can be found in an earlier recipe post.  Use the search bar to find.
Ingredients:
1 cup unbleached flour
1 cup Greek Yogurt - I like 5% Fage the best!
1.5t baking powder
1t sea salt
1/4t garlic powder
3T The Furies EVOO
Instructions:
In a mixing bowl, combine flour, baking soda, salt and garlic powder in a large bowl.  Whisk to combine well. 
Add yogurt and stir to combine.  Use an electric mixer with a bread hook attachment at medium speed until a ball forms. If you don't have a mixer with a bread hook, stir with a spoon until a ball forms.
Use your hands to roll ball, folding it over once or twice until smooth
Cut into 8 equal portions.
Flatten each small piece with the palm of your hand and then roll to a 6" diameter circle
Head griddle or non stick pan over medium heat.  Add 1-2T of EVOO to coat the pan.
Arrange flatbreads so they do not overlap, you may have to do a couple of batches.  Cook 2 minutes on the the first side before flipping.  Flip to the other side and cook for an additional 2 minutes
Brush with EVOO while still hot.  Garnish with fresh salt, garlic, parsley, or Parmesan cheese.