Article: Eggplant Stacks Layered with Herbed Cheese and Fresh Tomato Basil Sauce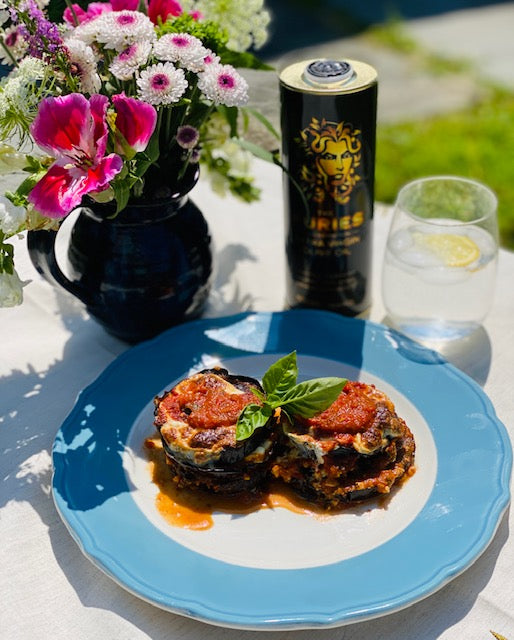 Eggplant Stacks Layered with Herbed Cheese and Fresh Tomato Basil Sauce
By the height of summer, the Farmer's Markets are bursting with beautiful eggplants.  This Greek version of cheesy baked eggplants is bursting with bright flavors and just the right amount of comfort. I was inspired by a dish we ate while we were in Greece made by my husband's cousin, Irene.  It is surprisingly easy to put together and makes a fantastic leftover.
Ingredients:
3 eggplants, cut into ¼" rounds
½ cup The Furies EVOO, divided
2 lbs. Campari or Fresh sweet tomatoes
5 cloves garlic
1 cup fresh basil
½ cup fresh parsley
1t The Furies Greek Mountain Oregano
½ t cumin
¼ t cinnamon
½ t sugar
½ t red chili flakes (optional for heat)
1t salt & pepper
8oz feta cheese
8oz fresh mozzarella cheese
Instructions:
Brush eggplant rounds with EVOO and season with salt and pepper.  Place on heated grill pan or outside grill over medium heat.  Grill on each side for approximately 3-5 minutes until lightly softened and scored.  Cover with foil and set aside.
To make Tomato Basil Sauce: Quarter tomatoes and place in food processor or blender. Add 4T of EVOO, 4 cloves garlic, ½ cup of fresh basil and ¼ cup parsley.  Pulse until coarsely chopped and but not smooth.  Pour into saucepan and bring to a boil.  The color will change from light red to a deep red.  Season with oregano, cumin, cinnamon, sugar and salt and pepper.  Cook for approximately 10 minutes over low heat until some of the water has evaporated.  Stir in another tablespoon of EVOO, chili flakes, and ¼ cup of coarsely chopped basil.  Taste and adjust any seasoning.  Set aside.
To make Cheese Mixture: Crumble feta cheese into a bowl.  Chop approximately 4 oz (half) of the fresh mozzarella into small cubes and add to bowl.  Add 1 clove minced garlic, ¼ cup fresh parsley and season with salt and pepper.  Slice remaining fresh mozzarella to add on top of the stacks before baking.
Assembly: Preheat oven to 375'F.  Pour 1/2 of the Tomato Basil Sauce into a 9x13" baking dish. Arrange 1st layer of eggplant, spoon a dollop of cheese on top of each eggplant round. Layer stacks of 3 eggplants with cheese between each layer.  Top each stack with a slice of fresh mozzarella, and a spoonful of sauce.  Cover in tin foil and bake for 30 minutes.  Remove foil and bake another 15-30 minutes until cheese is lightly browned and sauce is bubbly.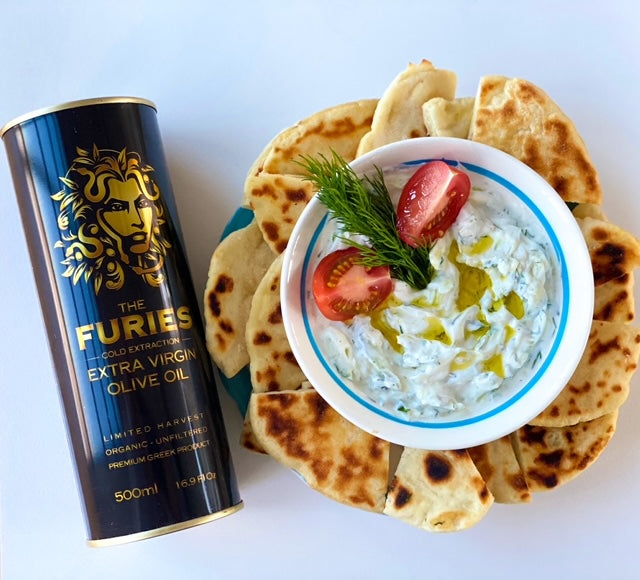 Cooking
Who knew that making flatbreads was so easy! This recipe comes together in a matter of minutes and uses ingredients that are most likely in your refrigerator and pantry already.  Greek yogurt is an...
Read more