Immune Boosting Winter Salad
This recipe has been inspired by Dr. Mark Hyman's documentary series, The Longevity Roadmap - Becoming Young at Any Age.  While watching, I have made mental notes of many of the foods the doctors have highlighted as super foods for reducing inflammation, supporting our immune systems, and being kind to our gut microbiome.  This is a super delicious salad, jam packed with super healthy ingredients to keep us feeling young and full of energy!  I made it this morning and proceeded to half of it immediately.  The other half I packed up and gave to a friend!  
Ingredients for Salad:
1 fennel bulb, shaved thinly (I used the flat blade of a kitchen grater, a mandoline would work too)
1/4 large red onion, julienned
1/2-1 red bell pepper, julienned
1 navel orange, sliced thinly and cut into wedges, reserve juice and add to salad
1/2 pomegranate, seeded
3T unsalted thinly sliced almonds
Arugula - as a salad bed
Dressing:
3T The Furies EVOO
1t pomegranate juice (I used POM 100% juice)
1/2 lemon, juiced 1T approximately
2t apple cider vinegar
1t honey
1/4t turmeric
1/4t cardamom
1/4t cinnamon
salt to taste
Whisk together to emulsify
Instructions:
Combine all salad ingredients except arugula in a bowl.  
Pour dressing over salad and mix well.  Let rest for 5-10 minutes.  This can be kept in the refrigerator for a few days.
Serve a heaping spoonful over a bed of arugula.  Garnish with seasonal fruit of your choice.  I used golden kiwis and raspberries!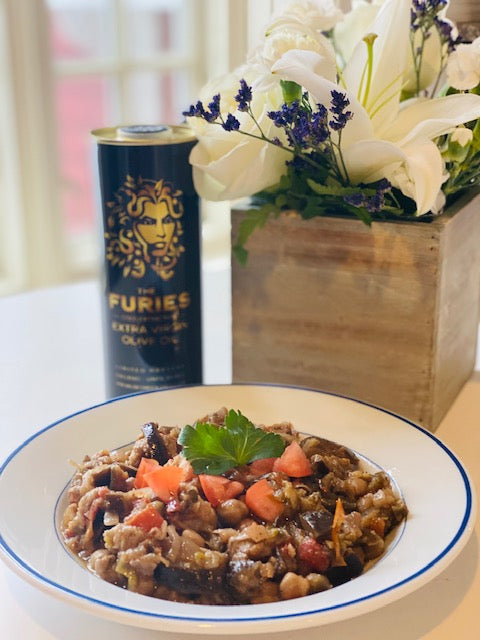 Clay Pot Eggplant and Chickpea Ragout
Clay pots have been used for millennia as a cooking vessel to roast savory, full bodied meals.  I haven't pulled mine out for years, but the flavors in this recipe are brought out beautifully by th...
Read more