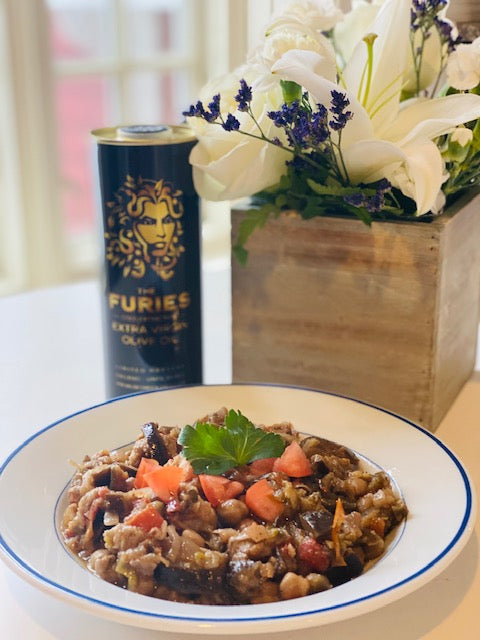 Clay Pot Eggplant and Chickpea Ragout
Clay pots have been used for millennia as a cooking vessel to roast savory, full bodied meals.  I haven't pulled mine out for years, but the flavors in this recipe are brought out beautifully by the clay pot, The photograph doesn't do it justice. The eggplant and onions are aromatic and the fresh tomatoes are brightened by the masala spices.  Chickpeas offer plant based protein, eggplants are a great source of dietary fiber, potassium and B vitamins, and onions are an excellent source of flavonoids such as quercetin that have powerful antioxidant properties.  Add in a healthy amount of The Furies EVOO and you have a super healthy vegan meal to add to your repertoire! 
I used a Romertopf 4 quart clay pot.  Do not despair if you don't have one, a covered baking dish can be substituted. Note that you put the clay pot into a cold oven to start baking rather than preheating.
Ingredients:
1 can chickpeas
2 large eggplants, cut into 1/4" rounds
6T The Furies EVOO
2 large onions, cut in 1/2 and sliced thin
2 cloves garlic, chopped
2 cups plum (or Campari) tomatoes chopped with juice
2 bay leaves
1-2t  McCormick Garam Masala spice blend (you can also substitute 1/4-1/2t each of cinnamon, cumin, cardamom, coriander and black pepper) I recommend starting with 1t and adding another teaspoon upon completion if more spice is desired. 
1t The Furies Greek Mountain Oregano
4T dry red wine
Instructions:
Place eggplant slices in colander and salt them.  Let drain for 20 minutes, rinse and pat dry.
Rinse and drain chickpeas.
While vegetables drain, heat 3T EVOO over medium heat.  Saute onions in a large skillet 3-4 minutes until softened and translucent.  Add eggplants with another tablespoon of EVOO to coat.  Stir constantly to cook evenly and not burn.  Add 1/4 cup of water and cook while stirring 5-7 minutes.  Toss in garlic and cook another minute.  Remove from heat.
Combine spices with chopped tomatoes and add salt and pepper to taste.  Stir chickpeas and tomatoes into eggplant and onions.  Add in additional 2-3T of EVOO to coat thoroughly. 
Transfer everything into clay pot.  Place pot into cold oven. Turn temperature to 375'F and bake for 1 hour.  After an hour, remove pot and add 3-4T dry red wine and stir.  Return to oven and bake additional 15 minutes.  Shut off the oven and open the door.  Leave clay pot in the cooling oven approximately 15 minutes before removing.
Cooking
Spanikopita is one of our families favorite holiday dishes. Delicious flakey filo is layered over brightly flavored baked spinach and cheese.  This recipe was inspired by our friend and Furies EVOO...
Read more
Cooking
  This recipe has been inspired by Dr. Mark Hyman's documentary series, The Longevity Roadmap - Becoming Young at Any Age.  While watching, I have made mental notes of many of the foods the doctors...
Read more