Spanikopita
Spanikopita is one of our families favorite holiday dishes. Delicious flakey filo is layered over brightly flavored baked spinach and cheese.  This recipe was inspired by our friend and Furies EVOO fan, Phillip Morris.  He shared his mother's secret ingredient, ricotta cheese.  The ricotta elevates the spinach mixture from fabulous to sublime!  Spanikopita is a great stand alone meal or delicious side dish for your holiday dinner or brunch.  Don't be intimidated with working with filo, it is easier than it appears.  Give yourself enough time to thaw frozen filo before you start cooking.  I leave it in it's packaging on the kitchen counter while I make the spinach mixture.  It is also important to cool and drain the liquid out of the cooked spinach and herbs before assembling.
Ingredients:
16oz fresh baby spinach
1 large leek, chopped
2-3 cloves garlic, finely chopped
1/3 cup fresh parsley, chopped
1/4 cup fresh dill, chopped
2T dry white wine, optional
1 heaping cup crumbled feta
1/2 cup ricotta
2T grated Parmesan cheese
2 eggs
1/4 t allspice
1/4t nutmeg
salt & pepper
1 package filo dough
4T The Furies EVOO, divided
2T butter, melted and cooled
Instructions:
Thaw frozen filo according to package instructions.  Do not remove packaging until ready to assemble, Preheat oven to 350'
in a large pan, heat 2T EVOO over medium heat.  Saute leeks and garlic until softened and lightly browned.  Add spinach, dill, and parsley.  Season with salt and pepper.  Cook approximately 3 minutes, add a splash of wine and cook another minute or two. Remove from heat.  Transfer into a fine strainer and place over a bowl to cool (I actually put outside where it was very cold to speed up cooling) 
When cool, press liquid out of spinach.  In a large bowl combine spinach glop with cheeses, eggs and spices. 
In a small bowl mix melted butter and 2-3T EVOO.  Using a pastry brush, lightly brush bottom of a 9x9 inch baking dish with EVOO.  Working with individual sheets, gently place a filo into bottom of dish.  Layer 8-10 sheets.  Brush each sheet of filo with EVOO/butter mixture.  Filo can overlap the edges of your baking dish.  It is important to brush each sheet with EVOO/butter so that the filo isn't mushy.
Spoon spinach mixture on top of the filo.  Repeat filo process by layering an additional 8-10 individual file sheets on top, brushing with EVOO/butter mixture as before.  
Bake at 350 for approximately 40-50 minutes until top is browned and beautiful.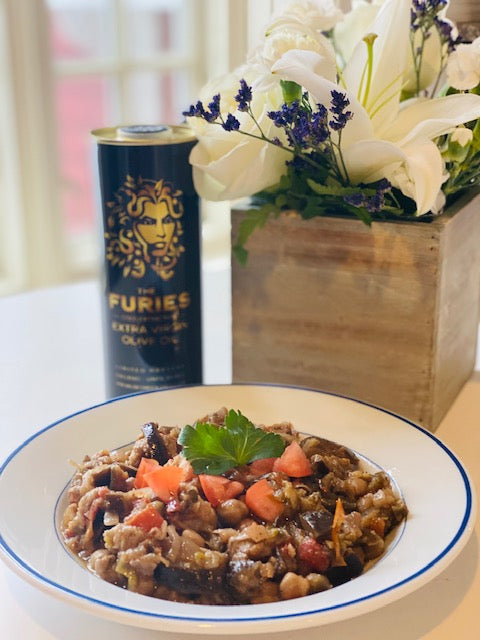 Clay Pot Eggplant and Chickpea Ragout
Clay pots have been used for millennia as a cooking vessel to roast savory, full bodied meals.  I haven't pulled mine out for years, but the flavors in this recipe are brought out beautifully by th...
Read more