Avgolemeno Soup - Chicken soup with lemon and egg
Nothing is more comforting than chicken soup. Avgolemeno's silky texture and tangy, creamy taste makes it truly special.  It is a staple of every Greek household and generations of children have grown up eating this soup.  I like to make my own broth with bone in chicken breasts.  I remove the breast meat to save for another meal, but leave the tender on the bone so that I have chicken meat to add to the soup.  If you are in a pinch for time, chicken stock can be substituted just as easily.  Elegant simplicity at its best!
Ingredients:
4 bone in chicken breasts, remove breast meat to save for another meal but leave the tender for the soup.
Carrots, celery, onion, bay leaf for making stock
2-3 quarts of water
1 cup long grain rice
2-3 large eggs
2 lemons, juiced
freshly ground pepper
Instructions:
Bring chicken, vegetables, bay leaf and water to a boil.  Season with salt and pepper.  Allow to boil gently for 2 hours.
Remove from heat, reserve stock, and remove meat from bones to use for soup,  Discard vegetables.
Return stock to a large soup pan and bring to boil.  Add rice and let cook for 15-20 minutes until rice is tender.
When the rice is cooked, remove the soup from heat.
Crack whole raw eggs into blender and add lemon juice.  Blend until frothy.  Slowly add 3-4 ladles of hot broth into egg and lemon mixture and continue to blend.  The idea is to introduce the hot broth slowly into the egg and lemon mixture. It will still be frothy.  Stir this gently into the rest of the hot broth with rice.
Another way to froth the eggs and lemon is to use a hand help blender with the whisk attachment.  Place raw eggs and lemon juice into a medium sized sauce pan and whisk until frothy.  Slowly ladle approximately 2 cups hot broth into mixture pan and stir gently.  Then pour this into the rest of the hot broth and rice.   
 I like to put chicken into the bottom of each bowl and ladle soup on top.  Grind fresh pepper as desired.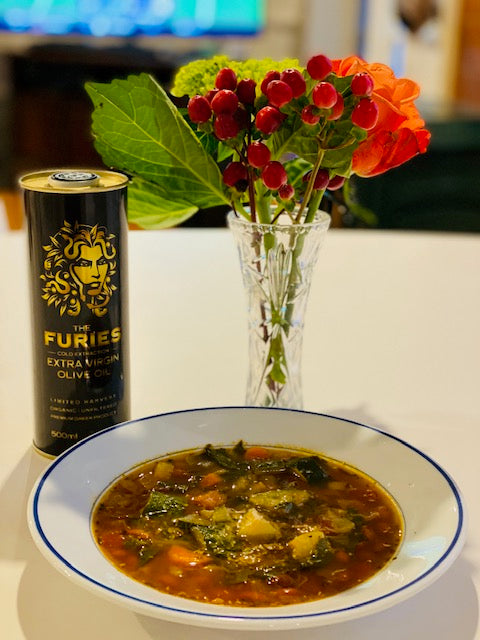 Cooking
Spanikopita is one of our families favorite holiday dishes. Delicious flakey filo is layered over brightly flavored baked spinach and cheese.  This recipe was inspired by our friend and Furies EVOO...
Read more