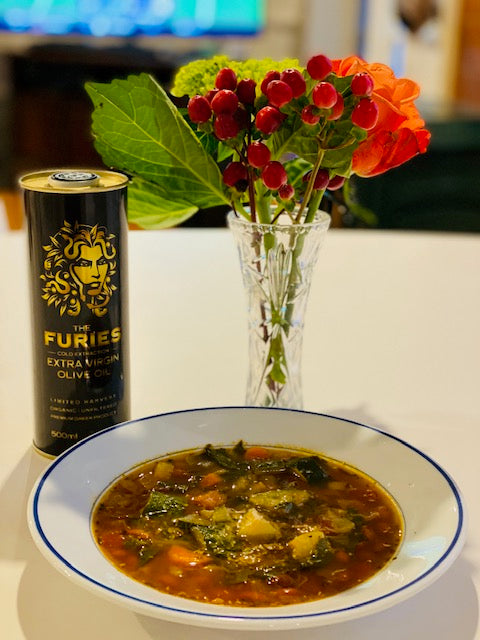 Ribollita (a fancy name for gluten free Minestrone Soup)
I made this soup Sunday afternoon after a very cold November Farmer's Market. Our booth was directly across from a vendor selling a beautiful array of fall vegetables.  Next to me, was my friend who sells locally distilled whiskey.  This soup features both: a healthy spread of vegetables and a splash of whiskey.  When serving, I recommend topping with freshly grated Parmigiano Reggiano, and a splash of The Furies EVOO.  For a vegan option, skip the cheese but still add the EVOO.  It was truly out of this world!  Wonderful for an afternoon of football or a light Thanksgiving lunch.  
Ingredients:
3T The Furies EVOO & more to finish when serving
2 onions, chopped
3 carrots, chopped
4 cloves garlic, crushed
2 celery stalks, chopped
1 fennel bulb, trimmed and chopped (I used half of a very large bulb)
2 zucchini squash, quartered lengthwise and cut in 1" chunks
14 oz can of chopped tomatoes
2t frozen fresh basil or 3T fresh basil.  Pesto works too!
1t Greek Mountain Oregano
1 bay leaf
4-5 cups vegetable stock
1 can navy or pinto beans
1 bunch swiss chard, chopped or 2 cups fresh spinach, chopped
2T whiskey (can be omitted, add another teaspoon of vinegar instead)
1t balsamic vinegar
salt & pepper to taste
Finishes:
1t EVOO
freshly grated Parmigiano Reggiano
Instructions:
Heat EVOO in a large saucepan.  Add onions, garlic, carrots, celery and fennel and saute 5 minutes over medium heat.  Add zucchini and cook another 2 minutes.  Season with salt and pepper
Add tomatoes, beans, basil or pesto, and vegetable stock, stir in oregano and add bay leaf.  Bring to a boil.  Turn heat to low, add whiskey and balsamic.  Simmer gently for 20 minutes.  Add swiss chard and stir gently to incorporate.  Continue cooking for another 10 minutes.  
To serve:
Shave cheese into individual bowls and top with a splash of EVOO.