Roasted One Pot Chicken with Kale, Sweet Potatoes and Artichoke Hearts
An apt name for this meal is chicken roasted with my favorite things. The inspiration for this dish was both utilitarian and slightly selfish.  I needed to make dinner early to feed my teenage boys before hockey practice and what I really wanted was a vegetarian dinner.  This was the perfect compromise, and as it turns out, the boys loved it too, kale and all.  I recommend experimenting with spices, I am often more generous with spices when I cook freehand.  
Ingredients:
4 boneless, skinless chicken breasts
1 shallot
2 cloves garlic
1 bunch kale, washed and chopped
2 cups cherry tomatoes
1 large sweet potato, cut into 2' cubes
1 can artichoke hearts, halved
3-4T dry white wine
3-4T chicken stock or bone broth
1t cumin
1/2t turmeric
1/4t cinnamon
1/2t paprika
1t The Furies Greek Mountain Oregano
4T The Furies EVOO, divided
Instructions:
Preheat oven to 400'
Rinse chicken breasts in cold water and pat dry.  Rub with EVOO and season with salt, pepper and oregano.  Heat oven proof pan over medium heat.  Add 2T EVOO and allow to warm.  Brown chicken breast on both sides, approximately 2-4 minutes on each side.  Remove from heat and set aside.
Add remaining EVOO to pan. Sauté shallots and garlic for a few minutes until softened and browned.  Add kale (it can be slightly wet) and spices and continue to cook until softened.  Add wine and stir. Stir in sweet potatoes, artichoke hearts and cherry tomatoes. The vegetable mixture should be moist.  Add chicken stock as needed.  I recommend tasting the kale at this point and adding more seasoning to taste.
Return chicken breasts to pot and bake for approximately 25 minutes or until chicken is cooked thoroughly (165' internal temperature) and sweet potatoes are soft.
ENJOY!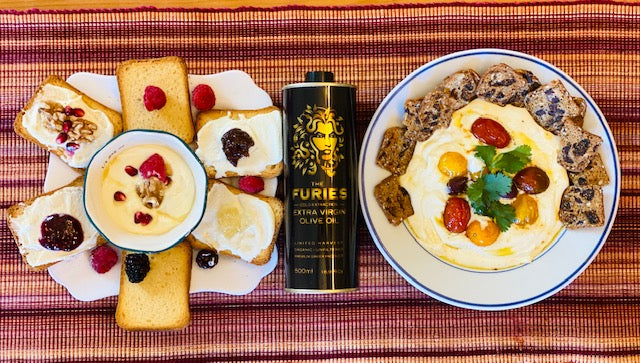 This is a tale of one recipe with two presentations: sweet and savory, brunch or cocktail party.  Whipped feta is smooth, has a complex flavor, and is easy to put together.   I roasted a full pan o...
Read more