Simple Greens with Elegant Vinaigrette
I spent the afternoon visiting with my Aunt Gail today.  She has been my favorite since childhood and has taught me life lessons in and out of the kitchen.  A talented chef in her own right, a version of this salad has graced the table for countless dinner parties.  Gail always makes salad dressing from scratch and usually serves the salad course following the main.  She taught me that a salad doesn't need many ingredients to be delicious and have an elegant presentation.  Belgium endive and radicchio add color, texture and a touch of bitterness to green leaf.  The dressing is a classic vinaigrette.  It has a raw egg yolk to emulsify and blend the acids and oils and give it a lush creamy texture.  I've done a good deal of reading about the safety of raw egg yolk in salad dressing wherein the acid in lemon juice and vinegar kill bacteria (the risk of bacteria is quite low in raw eggs).  If you have concerns, look for pasteurized eggs or omit all together. The other secret ingredient is avocado oil.  It adds a great deal of dimension to the dressing and completes its lush taste.
Salad - Mixture of green leaf, Belgium endive and radicchio
Dressing:
1T fresh lemon juice
2T champagne or Prosecco vinegar
1t freshly grated garlic
1/2 t Dijon mustard
1/2t salt
1/4t pepper
1t honey
1/2 cup The Furies EVOO
2T avocado oil
1 egg yolk
1T fresh parsely
Directions:
Combine lemon juice, vinegar, garlic, mustard, salt, pepper and honey in a small bowl.  Stir well to distribute the honey.
Slowly pour EVOO into mixture.  Do the same with the avocado oil.  
Separate an egg yolk and stir with fork.  Fold egg yolk into the dressing until smooth.  Add parsley.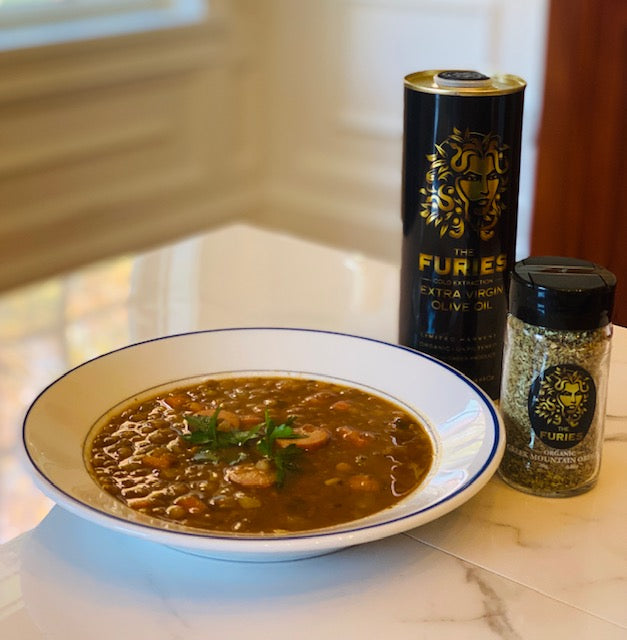 As the weather begins to get colder, I start craving soup.  Ironically, the foods I disliked most as a child, tend to be my favorites as an adult.  Lentil soup is one of my favorites!  This recipe ...
Read more