Peppers Baked with Fresh Tomatoes and Feta
These simple roasted peppers were the run away hit of Labor Day weekend and so many people have asked for the recipe.  This one is fun to share because it is super quick and easy to make!  The farmer's market had an abundance of long Italian peppers and ripe tomatoes.  Garlic, fresh herbs, a hint of jalapeno for heat, feta and EVOO sealed the deal.  One of the tricks to this dish is to let the tomato mixture rest a few minutes before baking the peppers.  This allows the garlic, jalapeno and EVOO to infuse the tomatoes and herbs, heightening the flavors.  The next night I repeated the recipe with eggplants and the results were out of this world.  Seasonal fresh ingredients and the very finest EVOO can make simple dishes elegant!
Ingredients:
2 cups garden ripe tomatoes, coarsely chopped
1 large clove garlic (or 2 small), chopped
1 jalapeno, remove seeds and finely chop
2T red onion, finely chopped
2T fresh parsely or basil or both, finely chopped
1t Greek Mountain Oregano
3T The Furies EVOO
salt and pepper
1/2 cup feta, crumbled or cut into small cubes
4-6 Italian long peppers
Instructions:
Preheat oven to 350' F.  Line a baking sheet with parchment paper
Combine tomatoes, garlic, jalapeno, onion, herbs and EVOO in a bowl.  Season with salt and pepper.  Let rest 10 minutes.  Add feta and stir gently.
Cut peppers lengthwise and remove seeds.  Rub a small amount of EVOO into skin and arrange on baking sheet.
Spoon tomato mixture into pepper cavity. Bake 15-20 minutes.  
Switch oven to broil and move baking sheet to top of oven.  Broil for approximately 3 minutes until browned and bubbly.
To make with eggplants:
Cut tops off eggplants and cut lengthwise.  Remove seeded centers with a serrated spoon to make a cavity or boat.  Season with salt and pepper and brush all sides with EVOO.
Place on parchment line baking sheets facing down and bake for 10 minutes.  Turn over and continue to bake for additional 5-10 minutes
Remove from oven and spoon tomato mixture.  Return to oven and bake 15 minutes.  Finish in broiler as above.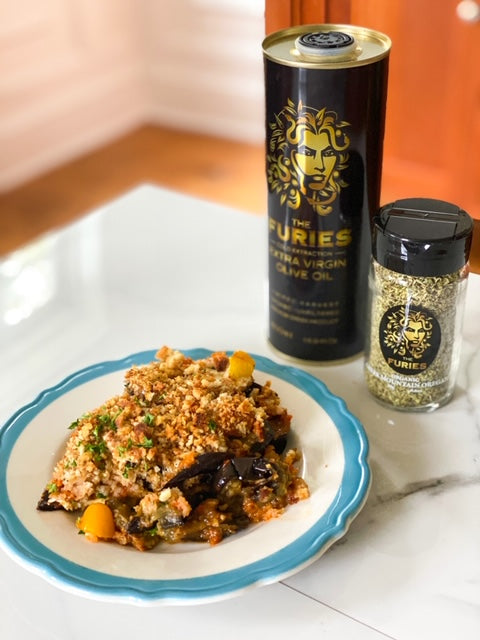 Simple Greens with Elegant Vinaigrette
I spent the afternoon visiting with my Aunt Gail today.  She has been my favorite since childhood and has taught me life lessons in and out of the kitchen.  A talented chef in her own right, a vers...
Read more