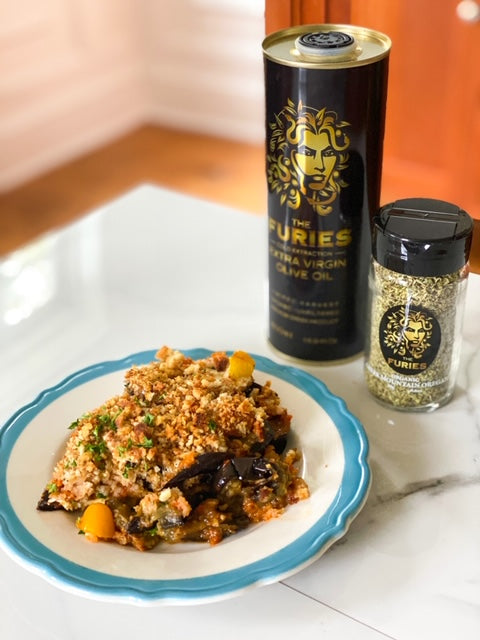 Eggplant Parmesan with Fresh Mozzarella and Tomato Basil Sauce
I love eggplant, but am often intimidated with cooking it.  The best eggplant parm I've ever had was made by my friend Paul.  It had a homemade spicy tomato sauce and thick slices of eggplant.  This recipe is inspired by that memory.  It also is an adaptation of a recipe presented by another friend, Alexandra, at Alexandra's Kitchen (https://alexandracooks.com/), who makes homemade breadcrumbs to top her eggplant.  My recipe is somewhat different than both of these chefs, but turned out amazingly well all the same! I will link Alexandra Cooks recipe at the end of this blog.
I learned a valuable lesson.  Cooking isn't intimidating.  As the eggplant browns there is plenty of time to make the tomato basil sauce. Follow your instincts, taste the sauce as you cook, feel inspired by the ingredients in your home and garden and Cook with a Vengeance!
Ingredients:
2 large eggplants, cut in 1/2" rounds
1t The Furies EVOO to brush on eggplant
1/4c Parmesan cheese
1t crushed red pepper flakes
fresh mozzarella cheese 
handful of cherry tomatoes
1T fresh basil
 Tomato Basil Sauce:
4 large tomatoes, chopped in large hunks
1/3 c. parsely
3T fresh basil
1 large clove garlic, chopped
1/2 small red onion, chopped
1t Greek Mountain Oregano
2T EVOO
1T white wine
1t sugar
1t butter, optional
salt and pepper to taste
Bread Crumbs:
1/2 baguette of French bread
1t Greek Mountain Oregano
1/2t salt and pepper
EVOO to coat skillet
You will need a food processor to make the bread crumbs.  Store bought bread crumbs can be substituted.
Instructions:
Preheat oven to 375'F.  Place eggplant rounds on large parchment lined baking sheet.  Using a pastry brush, lightly brush eggplant with EVOO and season with salt and pepper.  Flip rounds and repeat.  Bake 20 minutes, turning eggplant after 10 minutes until rounds are golden brown and soft.  Eggplant smells wonderful as it bakes.  When browned, remove from oven and set aside.  Keep oven heated.
Place tomatoes, onion, garlic, parsley, basil, oregano and EVOO in a blender. Blend together until well mixed, but retains some texture.  Pour into medium sauce pan and bring to a soft boil.  Stir occasionally as the sauce thickens. Add the white wine and sugar and continue to cook while the eggplant bakes.  Stir in butter to help thicken the sauce.  It's okay to have a more liquid sauce because it will permeate the eggplant and give it a lovely flavor. Take off of heat and let cool while you make the bread crumbs
To make bread crumbs, break bread into 1" chunks and pulse in food processor.  Add oregano and salt and pepper to processor and continue to pulse until small pieces.  Adding the spices to the breadcrumbs at this stage, brings out the natural oils of the oregano and infuses the bread crumbs with flavor.  Heat a cast iron skillet over medium heat and coat pan with EVOO.  Brown breadcrumbs over medium heat stirring continuously with wooden spoon for approximately 3-5 minutes.  
Assembly: In a 9" round baking dish, pour layer of tomato sauce, approximately 1/2 cup.  Arrange eggplant rounds to cover dish.  Sprinkle with Parmesan and add fresh basil.  Continue layering eggplant and cheese.  I tossed in a handful of yellow cherry tomatoes for pops of color.  Break fresh mozzarella into small pieces and top eggplant with as much mozzarella looks good to you.  Sprinkle with red pepper flakes and cover with tomato sauce.  Add a final layer of bread crumbs.
Bake at 375: for 20 minutes until bubbling and beautiful.  
Try another great version of Eggplant Parmesan here: 
https://alexandracooks.com/2015/08/14/no-breading-no-frying-no-fussing-eggplant-parmesan/