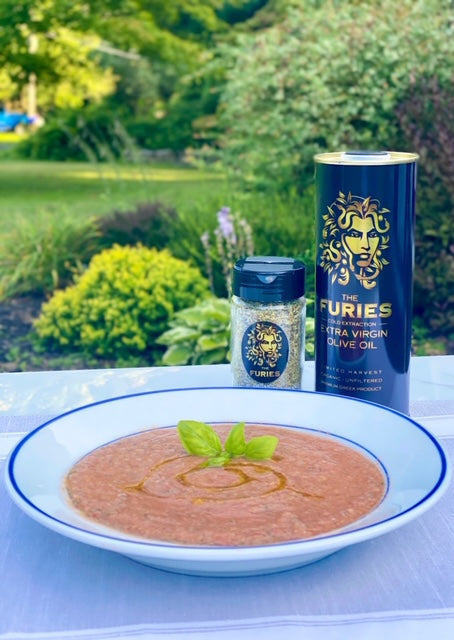 I fell in love with gazpacho in college when my friend, Gina, came back from a semester abroad in Spain.  Many years later, another great friend, Lola, rekindled my love with her authentic Spanish recipe.  Late summer is the perfect time to make gazpacho.  Vine ripened tomatoes, cucumbers and peppers are plentiful and the heat of the summer beckons for this cold soup.  I like my gazpacho with a little bit of texture and bite.  Feel free to puree til you reach your desired consistency.  
This recipe is inspired Gimme Some Oven.  I will link the recipe at the end.  I've made some changes to make it my own including Greek Mountain Oregano and swapping the traditional sherry vinegar with Prosecco vinegar and a dash of balsamic.  I also used a poblano pepper rather than green bell pepper to give a touch of pizzazz.  Add heat with a jalapeno.
Anyway you make it, gazpacho is a wonderful lunch or first course to an evening summer meal!
Ingredients:
2 pounds ripe tomatoes.  I used ours straight from the garden and didn't remove the seeds, but Roma tomatoes are traditional halved and cored.
1 cucumber, peeled and seeded. An English cucumber can be substituted
1 poblano pepper, or green bell pepper
1/2 red onion
1 large clove garlic
1/3 cup The Furies EVOO
2T Prosecco vinegar or sherry vinegar
dash of balsamic vinegar
1t The Furies Greek Mountain Oregano
1t salt
1/2t pepper
1 thick slice bread, crust removed.  Stale bread is perfect.  
Instructions:
Chop vegetables and garlic into chunks and put in food processor. Add oregano, salt and pepper and vinegar. 
Soak bread in small amount of water to soften and add to processor.
Puree for 1-2 minutes until soup has the desired amount of texture.
Slowly add EVOO, reserving a little bit to drizzle on soup when serving. 
Refrigerate until cold.  Serve with EVOO drizzled on top.
Inspired by:  https://www.gimmesomeoven.com/?s=gazpacho&submit=Search