Chopped Vegetable and Bean Salad with Lime Cumin Dressing
Bean and legumes are an integral part of the Mediterranean Diet.  The recipe is easily adapted to whatever beans and vegetables you have on hand.  The dressing features cumin, lime and honey.  The Furies EVOO completes the dressing adding a velvety texture and fabulous fresh taste!  I like to make the salad early in the day so that the flavors have time to marinate into the beans and veggies.  It lasts well for 3-4 days in the refrigerator and makes a healthy lunch the next few days.  
Salad:
1 can black beans, rinsed
1 can of pink, Great Northern beans, or garbanzo beans
1 can of corn
1/2 red onion, chopped
1 red bell pepper, chopped
4 radishes, chopped
1/2 English cucumber, chopped with skin on
3 carrots, chopped
1 stalk celery, chopped
3T fresh cilantro, chopped
1T fresh parsley. chopped
Dressing:
1/3 cup The Furies EVOO
1/4 cup fresh lime juice
1t honey
1t cumin, feel free to add more to taste
1t salt
pepper to taste
Instructions:
Mix beans, chopped vegetables and herbs in bowl.  To make dressing, combine ingredients and whip with fork or whisk to emulsify until creamy.  Pour over the salad and mix well.  It can be served immediately or refrigerated for 3-4 days.  This salad improves with time, so make it ahead and let the juices work to heighten the flavors! So fire up the grill and serve with whatever fish, meat or chicken sounds good tonight!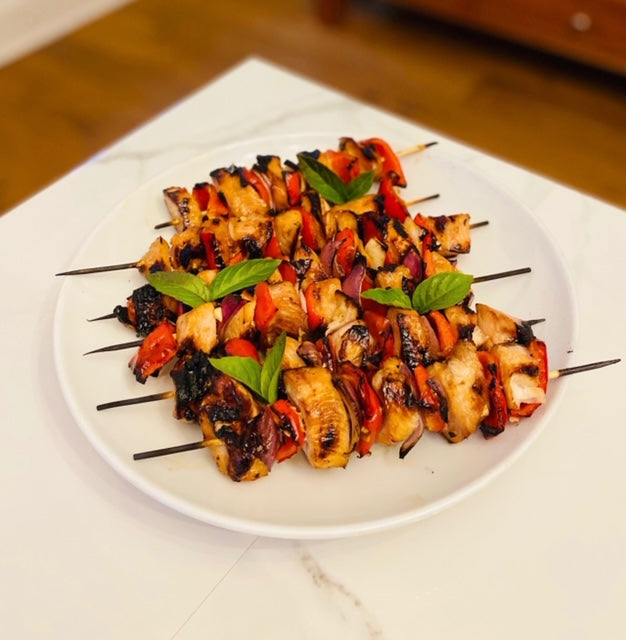 I love these kebabs! The flavors of the peppers and onions in this recipe are heightened by the sweet and savory marinade and the chicken is caramelized while grilling making it tender and juicy.  ...
Read more