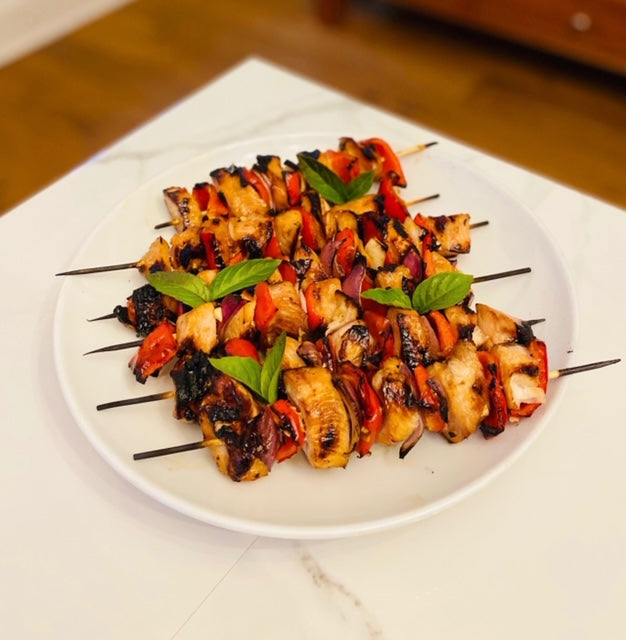 Honey Garlic Chicken Kebabs
I love these kebabs! The flavors of the peppers and onions in this recipe are heightened by the sweet and savory marinade and the chicken is caramelized while grilling making it tender and juicy.  Ideally try to marinate the chicken for at least an hour, but when we made it last night we only had 20 minutes to spare and it was still fabulous!  Next time I make this, I may sneak in pineapple or peaches into the kebabs.  You can also trade fresh mint or basil for the parsley or cilantro.
Ingredients:
Marinade:
4T The Furies EVOO
1/3 c honey
1/3 c soy sauce
3 gloves garlic, minced
1t black pepper
1t lime juice
Kebabs:
4 boneless, skinless chicken breasts, cut into 1" cubes
1 red onion, cut into 1" chunks
2 red bell peppers, cut into 1" chunks
2 yellow or orange bell peppers, cut into 1" chunks
fresh parsley or cilantro to garnish
bamboo or wood skewers, soaked in water
Instructions:
Put skewers in a flat baking pan and soak in water
Mix marinade ingredients in a medium sized bowl and add in chicken.  Stir well to coat, cover and refrigerate for 1-3 hours.
Assemble skewers after chicken has marinated, placing onion and peppers together in between hunks of chicken. Pour extra marinade over skewers and let rest until room temperature.
Place on preheated grill over medium low heat and cook for approximately 20 minutes, or when juices run clear,
Garnish with fresh herbs.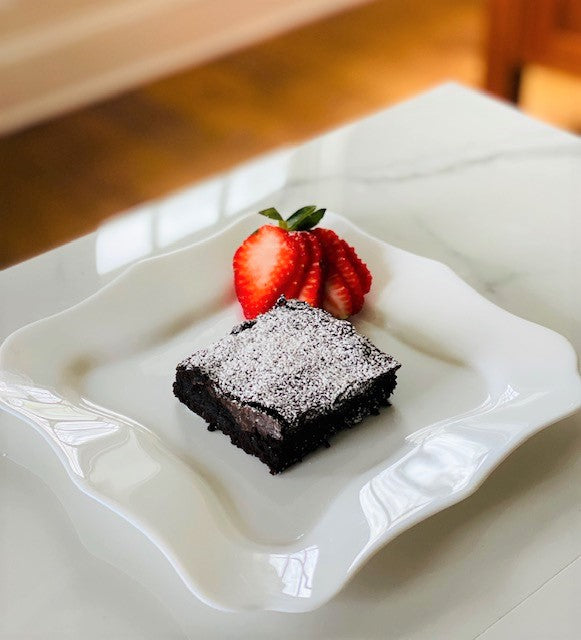 Warm fudge brownies are almost irresistible.  This diary free recipe features our EVOO and almost makes you feel healthy while eating them! Using the freshest EVOO gives these brownies a bright fla...
Read more