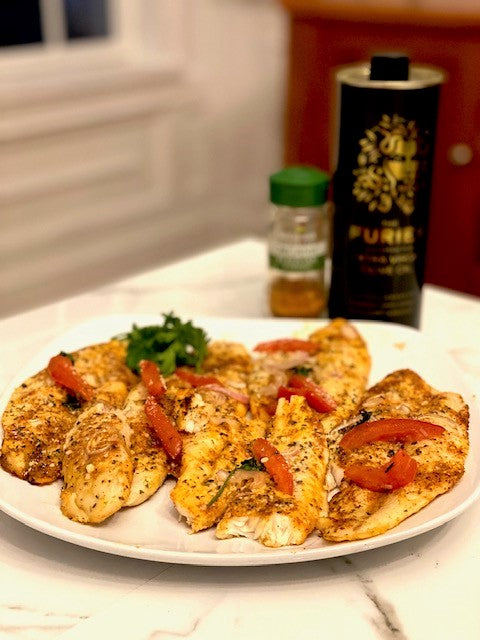 Peruvian Cod with Shallots and Fresh Tomatos
The key to this delicious and simple fish dish is a McCormick Peruvian spice blend.  It is a mixture of paprika, cumin, garlic, lime and a pinch of sugar.  It you can't find the McCormick spice, just make your own!  I used cod for my dish, but any other mild, flaky fish will do!  I made this on the grill, but it can easily be baked.
Ingredients:
5 cod fillets, dried with a paper towel
2 T The Furies EVOO
3t Peruvian spice blend
1 shallot, sliced
1 tomato, seeds removed and sliced
salt and pepper to taste
lime wedge
Directions:
Line a slotted grill pan with foil and cut through the foil with a knife allowing heat to pass through the slots
Brush the foil with a little EVOO.
Pat fish dry and brush both sides of fillet with EVOO.  Rub spice blend onto both sides of the fillets.  Salt and pepper to taste.
Top with shallots and fresh tomatoes and squeeze lime on top.
Grill or bake (400') approximately 15 minutes until fish is opaque and flakes.