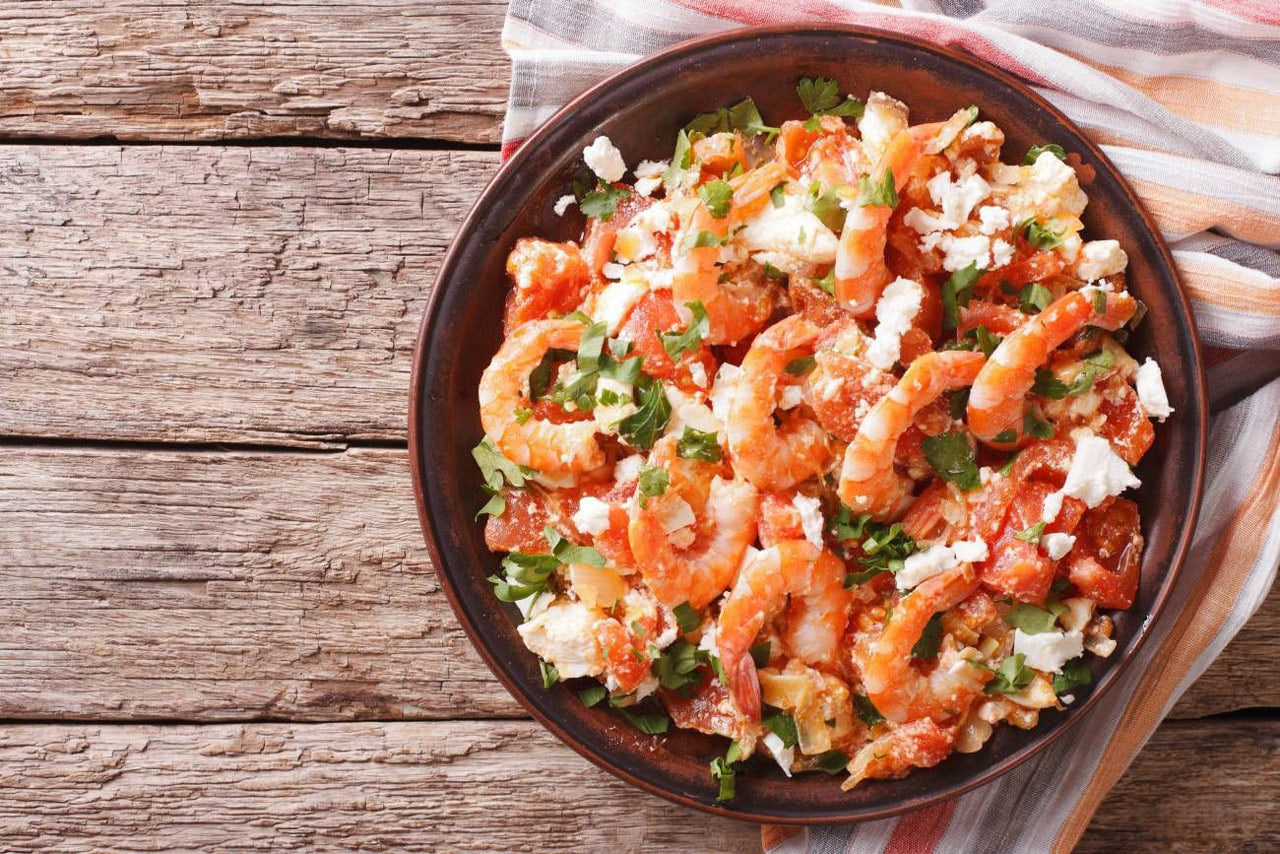 Greek Island Shrimp
Baked Island Shrimp
This is a classic Greek dish, is often called Shrimp Saganaki or Santorini.  Robust tomatoes and creamy feta add a luxurious taste to a quite easy dish to prepare.  I like to make it in Spring when the tomatoes are flavorful, but the evenings are still cool enough to want to have the oven warming the kitchen.  Serve over brown rice or orzo.  A large leafy green salad compliments the meal perfectly!
Ingredients:
¼ cup The Furies EVOO, plus oil for drizzling
½ cup chopped shallots or onion
2-3 cloves chopped garlic, depending on personal taste
2 cups cherry tomatoes, halved
1T tomato paste can be added for a bolder tomato taste
½ cup dry white wine
1t Greek Mountain Oregano
1T butter, optional
¼ cup chopped fresh parsley
1 ½ medium to large shrimp, peeled and deveined
1T lemon juice
¾ cup crumbled feta cheese
Directions:
Preheat oven to 400'F.  Rinse shrimp in cold water, toss with lemon juice and strain.
Heat ¼ cup EVOO in large sauté pan over medium heat.  Add the shallots and garlic and season with salt and pepper.  Cook until tender, stirring frequently, approximately 3 minutes.  Add the cherry tomatoes and oregano and cook for an additional 2 minutes.  Stir in white wine, butter and tomato paste (if desired) and simmer at low heat for 5-6 minutes or until sauce has thickened slightly.  Add half of the chopped parsley.
Spoon approximately ½ of the tomato mixture into a 9" round baking dish, enough to cover the bottom.  Working from the outside in, arrange the shrimp in concentric circles.  Season with oregano and pepper.  Because the feta will add some saltiness, do not add additional salt at this time.   Cover the shrimp with the remaining tomato sauce and top with feta.
Mushroom, Leek and Gouda Frittata
Frittatas are wonderful as a weeknight dinner or for weekend brunch.  Mushrooms and leeks add savory flavor with a hint of sweetness.  I like Gouda, but Fontina, and Swiss can be used interchangeab...
Read more