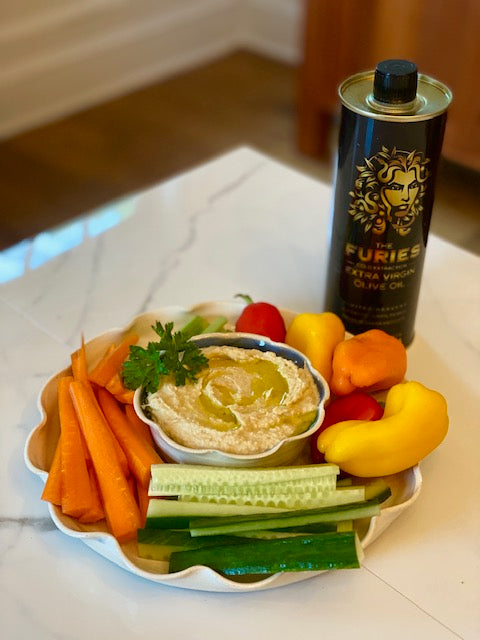 I guarantee you will never feel the same about store bought hummus.  Using fresh extra virgin olive oil, especially, The Furies, elevates this dip from ordinary to exceptional.  I did not like chick peas at all until I was pregnant with my 4th child.  That changed from then on! I can't get enough of this recipe.
Ingredients:
1 can (15 ounce) can chickpeas
1/4 cup fresh lime juice (approximately 1 large lime), lemon juice can be substituted
1/4 cup tahini, make sure to stir well before measuring
3 T The Furies EVOO, and a little more to drizzle on top when serving
1 clove garlic, chopped
1/2 t ground cumin
1/4 t cayenne powder
1/4 paprika
2t cold water
salt and pepper to taste
Instructions:
In a food processor, blend together lime juice, tahini, garlic, and EVOO, mix for 1-2 minutes until creamy
Add chick peas and spices and blend until smooth, approximately 3-5 min. Slowly add water and blend until smooth and fluffy. Season with salt and pepper to taste.