This summer salsa is incredibly delicious and compliments fish tacos, and grilled meats and fish alike!  Ataulfo mangoes are yellow, slightly smaller and narrower than traditional mangoes.  They are delightfully sweet!  Sometimes coined the King of Fruits, mangoes are a nutritious treat.  High in beta carotene, vitamin A & C, and prebiotic dietary fiber, mangoes also have enzymes that aid in digestion.  This may be the only recipe I post without EVOO, but it is special enough on it's own.
Ingredients:
2 ripe Ataulfo mangoes

3T red onion, diced

1/3 cup red bell pepper, diced

1T jalapeno pepper, diced

1T fresh lime juice

2T fresh cilantro, chopped
Instructions:
Mix together mangoes, onion, peppers and cilantro.

Toss with fresh lime juice
Fish Tacos! Blackened Mahi-Mahi
What is more fun than Taco Tuesday?!  Once you make homemade fish tacos with fresh salsas you will never go back.  We keep a couple of packages of Trader Joe's frozen mahi mahi in the freezer to ha...
Read more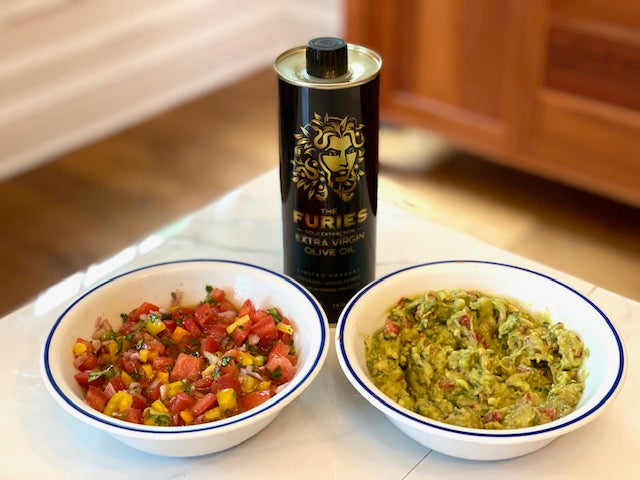 This quintessential duo is a sure favorite.  Store bought guac and salsa pale in comparison to freshly made. This duo is very easy to make side by side as many ingredients are used in each recipe. ...
Read more