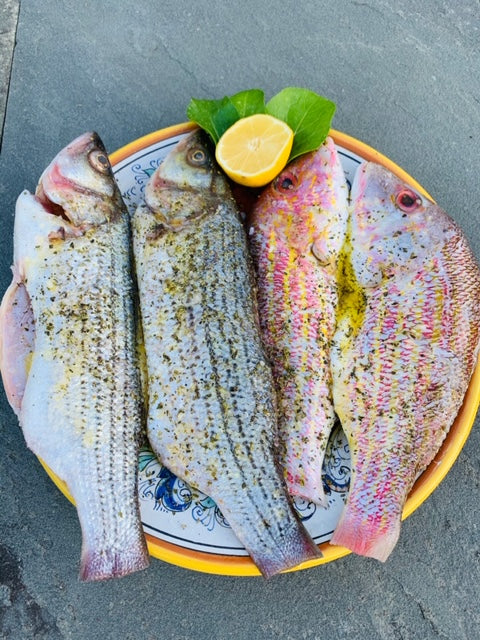 Mediterranean Grilled Whole Sea Bass & Red Snapper with EVOO, lemon, oregano and fresh herbs
This is a classic presentation and method of cooking fish in Greece.  Fish is an essential part of the Mediterranean Diet.  It is nutrient dense and naturally low in calories.  One of the best ways of telling if fish is fresh is to look at the eyes.  If the eyes are plump and clear, it is a good indication that the fish is fresh.  We like to cook fish on the grill, however this recipe can also be adapted to an oven (425').
Ingredients:
2 striped sea bass, cleaned and scaled
2 red snapper, cleaned and scaled
1/2 cup The Furies EVOO plus 2T to drizzle
1 lemon, juiced
2t coarsely ground sea salt
2t Greek Mountain Oregano
fresh parsley and/or basil 
Preparation:
Rinse fish with cold water and make sure there aren't any remaining scales.  Pat dry and sprinkle with sea salt.  Let fish sit at room temperature while grill gets hot.
Sprinkle with oregano and drizzle with EVOO on both sides of fish
Spray or brush grill surface with a small bit of oil
Place whole fish onto grill.  Cook for approximately 20 minutes, turning fish over once to cook evenly.
Don't be afraid of the appearance of the cooked fish!  The meat will be delicate and flavorful.  The backbone and rest of the bones are removed easily by gently removing the top fillet and pulling the bones off
Sauce:
Combine lemon juice, EVOO, oregano, parsely and basil.  Use a fork to whisk together.  Pour over cooked fish to taste.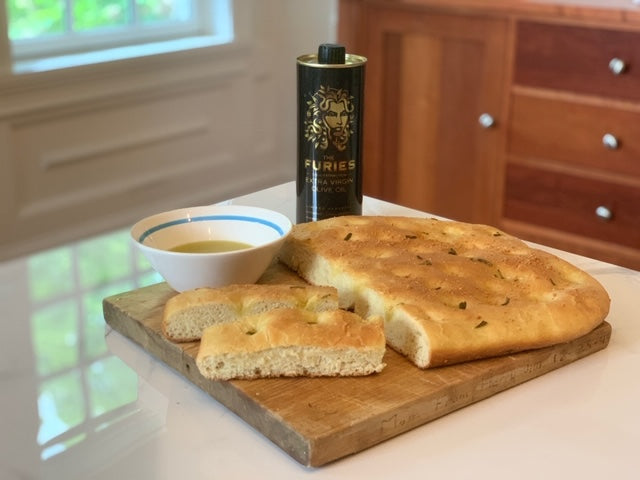 I really love this recipe found on the Gimme Some Oven website.  During the stay at home this spring, we have followed so many people making focaccia bread.  Yeast has been a scarce commodity.  We ...
Read more