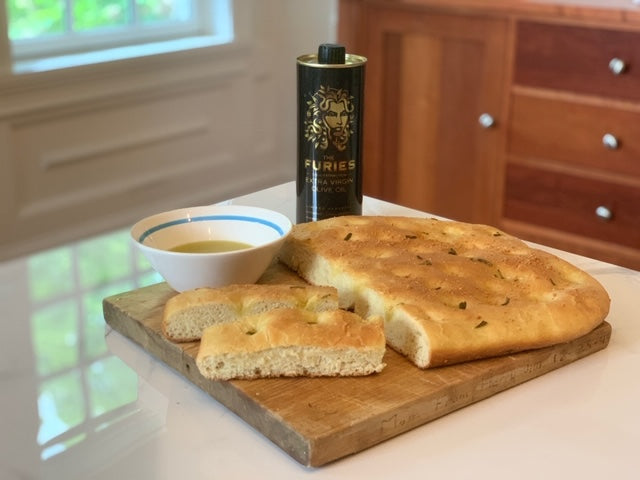 I really love this recipe found on the Gimme Some Oven website.  During the stay at home this spring, we have followed so many people making focaccia bread.  Yeast has been a scarce commodity.  We finally found some and were able to make this bread.  It is light, airy, and melts in your mouth.  Be generous with the EVOO both before and after it is baked.  When proofing the yeast, pay attention to the temperature of the water, 110' is hot to the touch.  
Ingredients:
1 1/3 cup

 

warm water (about 110°F)

2 teaspoon

s sugar or honey, we used honey

1

 

(0.25 ounce) package active-dry yeast

3 1/2 cup

s all purpose flour

1/4 cup

 

extra virgin olive oil, plus more for drizzling

2 teaspoon

s finely ground sea salt

2

 

sprigs fresh rosemary
1 clove garlic, mashed
Instructions:
Proof the yeast.

 

Add warm water (about 110°F, which you can measure with a candy thermometer if you want to be sure it's the right temp) and sugar to the bowl of a

 stand mixer 

with the dough attachment, and stir to combine.  Sprinkle the yeast on top of the water.  Give the yeast a quick stir to mix it in with the water.  Then let it sit for 5-10 minute until the yeast is foamy.
Knead the dough. 

 

Set the mixer to low speed, and add gradually flour, olive oil, garlic, and salt.  Increase speed to medium-low, and continue mixing the dough for 5 minutes.  (If the dough is too sticky and isn't pulling away from the sides of the bowl, add in an extra 1/4 cup flour while it is mixing.)  If you don't have a mixer with a bread hook, you can knead the dough by hand.  Flour your surface and hands.  Softly knead the dough for approximately 5 minutes until it is soft and smooth, adding extra floor as needed if sticky.
First dough rise.

 

Remove dough from the mixing bowl, and use your hands to shape it into a ball.  Grease the mixing bowl with olive oil or cooking spray, then place the dough ball back in the bowl and cover it with a damp towel.  Place in a warm location and let the dough rise for 45-60 minutes, or until it has nearly doubled in size.
Second dough rise.  Turn the dough onto a floured surface, and roll it out into a large circle or rectangle until that the dough is about 1/2-inch thick*.  Cover the dough again with the damp towel, and let the dough continue to rise for another 20 minutes.
Prepare the dough.

 

Preheat oven to 400°F. Transfer the dough to a large parchment-covered

 baking sheet

 

or press it into a

 9x13 baking pan

.  Use your fingers to poke deep dents all over the surface of the dough.  Drizzle a tablespoon or two of olive oil evenly all over the top of the dough, and sprinkle evenly with the fresh rosemary needles and sea salt.
Bake.

 

Bake for 20 minutes, or until the dough is slightly golden and cooked through.
Serve.

 

Remove from the oven, and drizzle with more olive oil.  Slice, and serve warm.
For full recipe and blog article: https://www.gimmesomeoven.com/rosemary-focaccia-bread/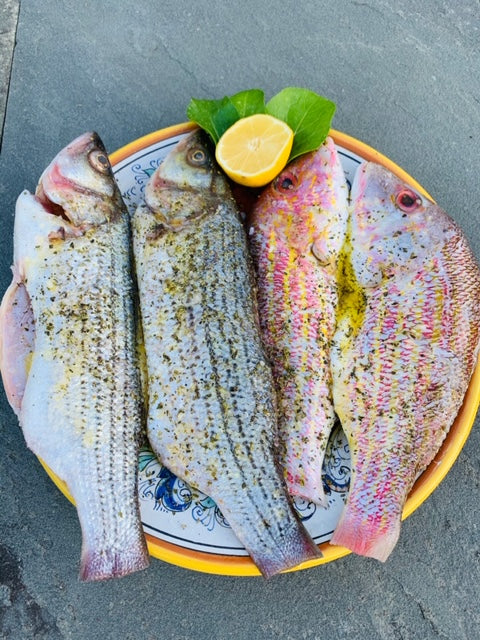 Lamb Sliders with Beets, Greens & Beans
These sliders are filled with fresh herbs, spices and feta cheese.  We chose organic, grass fed lamb that we found at a local farmers market.  Although we don't eat a lot of meat, lamb is a rich so...
Read more