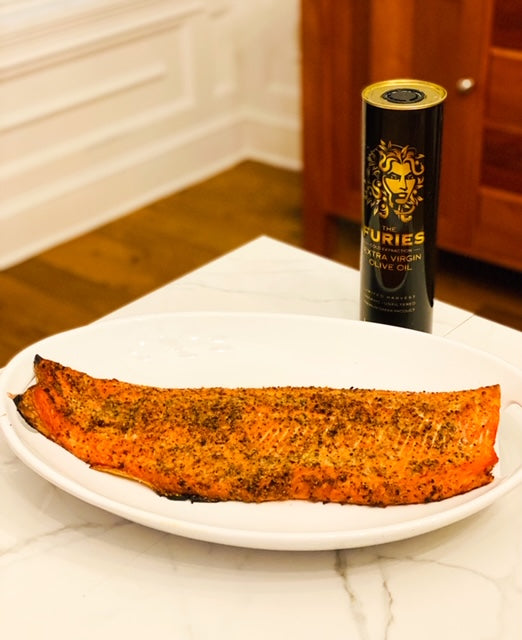 Steelhead Trout grilled on a Cedar Plank
If you've never tried steelhead trout you are missing out on a treat! It is very similar to salmon but has a more delicate taste and firmer texture.  According to the Monterey Bay Aquarium Seafood Watch, steelhead trout caught in the United States is one of the healthiest types of seafood that you can eat. It is rich in lean protein, vitamins, minerals and omega-3 fatty acids while containing a low level of contaminants like mercury, pesticides, dioxin and polychlorinated biphenyls, or PCBs. One of our favorite ways to prepare steelhead trout is grilled on a cedar plank.  The final dish has a smoky flavor and the fish is wonderfully tender. Making this fish couldn't be easier!
Ingredients:
Steelhead trout filet - any size that works for you
Cedar plank
Spice blend - we used Montreal Seasoning
The Furies EVOO to rub into fish
Instructions:
Soak plank in cold water for at least 20 minutes to an hour.  This will ensure that the plank does not catch fire when grilled.  
Preheat grill to 400'F
Press fish dry with either paper towels or clean cloth.  Rub a small amount of EVOO on fish and season with spice blend.
Place fish on plank skin side down on pre-soaked plank.  Place cedar plank directly on grill rack over low flames.  Grill with closed lid approximately 15-20 minutes  Check on the fish regularly to make sure the plank doesn't flame.
Coleslaw with spiraled beets and radishes
Move over traditional coleslaw, we've given you a healthy makeover!  Raw beet spirals give this slaw a beautiful color and add fabulous taste.  Radishes add a spicy crunch to the cabbage too.  We l...
Read more