Pork Tenderloin with Mojo Sauce, served with Medley of Roasted Potatoes
This recipe is inspired by a similar presentation found in The Ultra Metabolism Cookbook by Mark Hyman, MD.  I love reading cookbooks, but I often use them as a starting place rather than following to the letter.  That's what happened last night. The main difference between our two versions is in the mojo sauce.  I decided to cook my juices, spices and garlic, intensifying the flavors and reducing slightly then adding the herbs with the heat off but sauce still warm.  My ingredient list is a tad different too, mainly because my local grocer was out of fresh jalapeno peppers.  I also added a spoonful of peach preserves to give a touch of sweetness to the intensified spices.  The results were fabulous!  I will offer both sauce recipes below.  I am sure Dr. Hyman's version is equally delicious.  Try both and let me know your thoughts!
We served the pork with a medley of roasted tri-colored creamer potatoes and sweet potatoes roasted on the grill alongside the pork.  Fresh rosemary adds wonderful dimension to the potatoes and mixes well with the mojo sauce.
Full citation of The Ultra Metabolism Cookbook is listed at the end of this blog.  I highly recommend this book.  All of the recipes are out of this world!
Ingredients:
Pork:
2 whole pork tenderloins, trimmed
2T The Furies EVOO
1T, 2 cloves garlic
1t Greek Mountain Oregano
1/4 t kosher salt
1/2 t freshly ground pepper
Rub the pork with EVOO.  Cut small slices into pork and push some of the garlic into pork.  Rub the rest of the garlic into the pork.  Cover and refrigerate at least an hour or overnight.  If you are pressed for time, leave pork on counter at room temperature while you make the sauce. 
Furies Mojo Sauce:
1/2 cup 100% fresh squeezed orange juice
1 lime, juiced approximately 2T
1T garlic, chopped
1/4 t red pepper flakes
1/2 t ground cumin
1t peach or apricot preserves - honey can be substituted
2T fresh cilantro, chopped
2T fresh flat leaf parsley, chopped
2T fresh basil, chopped
In a small saucepan bring orange juice, lime juice and garlic to a boil.  Let cook for 3-4 minutes.  Add red pepper flakes and cumin and continue to boil for another minute or two.  Remove from heat and incorporate preserves or honey.  Gently stir fresh herbs into sauce and set aside.  
Ultra Metabolism Mojo Sauce:
1/2 cup 100% fresh squeezed orange juice
1 lime, juiced approximately 2T
1T garlic, chopped
2T EVOO
2T minced cilantro
2T minced oregano
1t minced jalapeno pepper
1/2 t ground cumin
In a small bowl, mix together orange juice, lime juice, cilantro, oregano, jalapeno pepper, cumin, salt, EVOO and chopped garlic.
Medley of Roasted Potatoes
1lb tri-colored creamer potatoes, red, yellow and purple. Halved with peel left on
2 medium sweet potatoes, peeled and cut into 2" chunks
2T The Furies EVOO
2t fresh rosemary, chopped
salt and pepper to taste
To help keep grill times equal, either par boil the potatoes until tender or pop in the microwave for 5-6 min.  Toss with EVOO and rosemary and season with a very small amount of salt and pepper.  Place in a grill pan 
Putting it all together and Grilling:
Preheat grill or oven to 450'.  Reduce flame to medium. Grill the meat for approximately 8 minutes, turn and continue to cook 7-9 minutes.  Cook potatoes on a grill pan alongside meet, stirring on occasion to prevent burning.
Let rest 3-4 minutes before slicing.  If cooking in an oven, roast pork and potatoes at 450' for approximately 20 minutes.
Hyman, Mark, M.D. The Ultra-Metabolism Cookbook. New York, Shribner,    2007.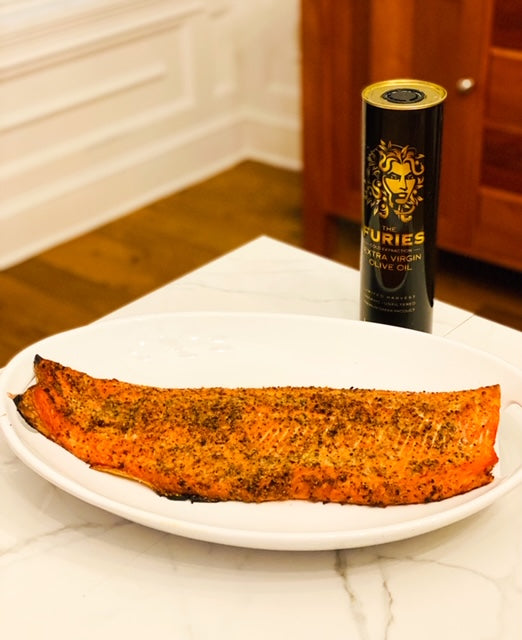 Steelhead Trout grilled on a Cedar Plank
If you've never tried steelhead trout you are missing out on a treat! It is very similar to salmon but has a more delicate taste and firmer texture.  According to the Monterey Bay Aquarium Seafood ...
Read more