Parsley and Bulgar wheat star in this heart healthy Mediterranean side salad. It is incredibly delicious and quick and easy to make.  Parsley is low in calories and rich in nutrients such as vitamins A,K, & C.  It is a good source of magnesium, potassium, folate, iron and calcium.  Bulgar wheat is a high fiber, whole grain also rich in manganese, magnesium and iron.  I love the texture and taste of Bulgar wheat, but quinoa can be substituted for a gluten free option. I found it surprisingly hard to find Bulgar wheat. however, Whole Foods does stock.
Ingredients:
1/2 cup Bulgar wheat.  This will make 1 cup of cooked grain
2 cups parsley, finely chopped
3T fresh mint, finely chopped
1 cup Roma tomatoes, approximately 4 tomatoes, chopped.  Only use the outer fruit, cutting around the seeds.  
4 scallions, chopped finely
1 English cucumber, leave the skin on and finely chop
2T fresh lemon juice, approximately 1 small lemon
2T fresh lime juice, approximately 1 small lime
1/4 cup The Furies EVOO
1/2t salt
1/2t pepper
Instructions:
In a medium saucepan, combine 1/2 cup Bulgar wheat and 1 1/2 cup water. Bring to a boil, stir, lower heat to low and cook for 10 minutes.  Do not overcook.  Rinse with cold water and drain.
When cooled, combine wheat with chopped vegetables and herbs.
I like to mix the dressing in a blender.  It can also be whisked together in a bowl with a fork.  Either way, mix lemon, lime, EVOO, salt and pepper together until creamy.  Pour over salad and enjoy
Note:
This salad improves over time.  It can be easily refrigerated 2-3 days, if it lasts that long!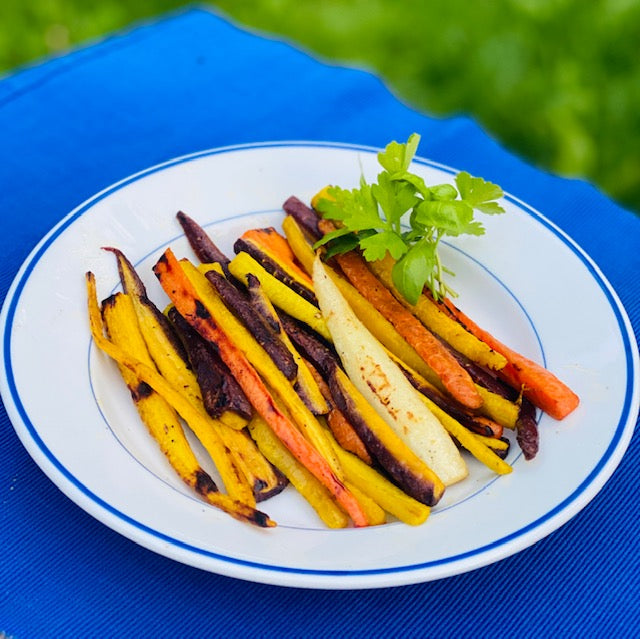 Grilled vegetables are always delicious, and carrots are often overlooked when choosing what to grill. Rainbow carrots are beautiful and fun!  High in fiber, beta-carotene, postassium, vitamins C a...
Read more