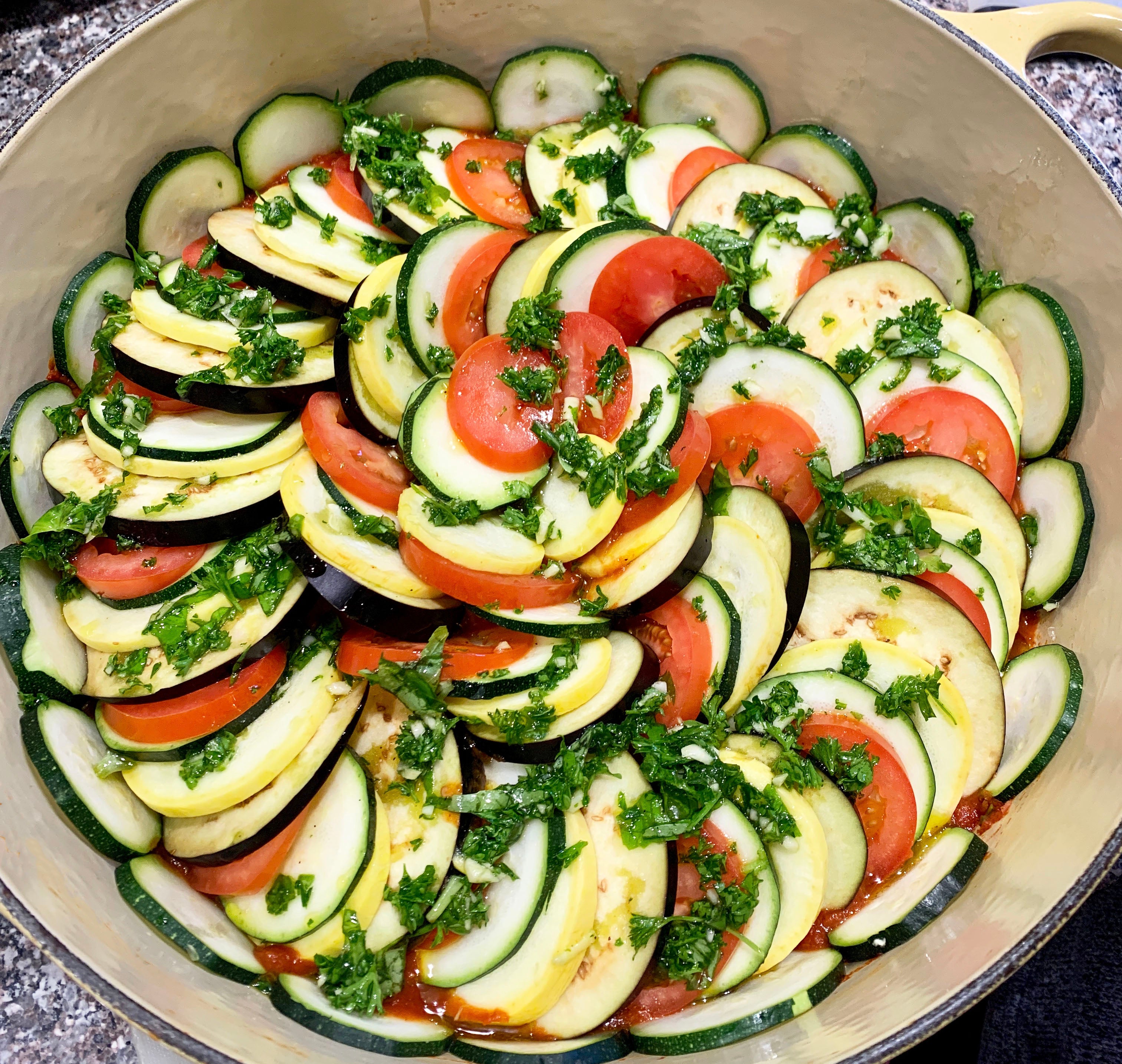 Inspired by the Disney film, our ratatouille recipe takes a Mediterranean spin on this traditional French dish. Filled to the brim with nutritious and tender vegetables, ratatouille the perfect healthy comfort food. Enjoy the same night or leave some aside for leftovers! This dish can be made Vegan by eliminating the cheese.
 Ingredients:
1 large zucchini
1 large yellow squash
1 large eggplant
4 Roma tomatoes
1 T The Furies EVOO
2 bell peppers (we used one red and one orange)
1 onion
4 cloves chopped garlic
1 T fresh basil
1 24oz can crushed tomato
1 tsp red pepper flakes
1 tsp Greek oregano
1 tsp salt
1 tsp pepper
Herb Seasoning:
1 T chopped parsley
1 T chopped basil
1 tsp Greek oregano
1 clove chopped garlic
4 T The Furies EVOO
1-2 T Parmesan cheese 
Directions:
Preheat the oven for 375˚F
Slice the zucchini, eggplant, Roma tomatoes, and yellow squash into approximately 1/16-inch rounds.
Make the herb seasoning: Mix basil, garlic, parsley, oregano and EVOO in a small bowl and set aside.
Make the sauce:
Dice the bell peppers and onion and mince garlic. Heat up EVOO in an oven safe (approximately 12-inch) pan on medium-high heat. Sauté the onion, garlic, and peppers until soft. Add in crushed tomatoes, salt, pepper, oregano, basil, and red pepper flakes. Stir until all ingredients are fully incorporated. Let simmer for approximately 5 minutes and then remove from heat.
Arrange vegetable slices in alternating patters (e.g. eggplant, squash, tomato, zucchini) beginning from the outer edge of the pan towards the middle of the pan. (we arranged in concentric circles rather than a spiral).
Spoon herb seasoning over the vegetables.
Cover pan with lid or foil and cook for 20 minutes. Uncover the pan and cook for another 20-25 minutes, until the vegetables are softened. We like our veggies on the crunchier side, so we cooked the ratatouille at these times. If you prefer softer vegetables, you can bake for another 10 minutes. Sprinkle Parmesan cheese on top 
Serve hot or reheat for dinner!
Classic and flavorful everyday dressing. This is a salad dressing you can feel good about with no artificial sweeteners, sugars, or preservatives.  Lasts in the refrigerator approximately 1 week. I...
Read more
Zucchini and Yellow Squash Ribbons
This surprisingly easy side dish takes ordinary vegetables to extraordinary!  High in fiber and anti inflammatory phytonutrients, zucchini and squash are healthy and delicious alternatives to pasta...
Read more