Steamed Little Neck Clams with Fresh Garlic Herb Sauce
Cooking restaurant quality clams is surprisingly easy at home.  The sauce is delightfully flavorful; not a drop of ours was leftover- sopped up with a fresh crusty bread.  Choose any type of pasta to accompany this dish, or leave it out all together and enjoy the broth with a spoon.  The recipe serves 6-8.
Clams are an exceptionally dense protein source! They are one of the best dietary sources of vitamin B12 and iron.  Clams are also rich in Omega 3 fatty acids DHA and EPA and minerals selenium and manganese.  One fun tact about clams is that they are one of the few animal sources of vitamin C.  When choosing clams it is important note that they have been safely sourced.  Also, because clams are shellfish, they are a common food allergy.
Ingredients:
One bag of Little Neck Clams, approximately 5 lbs
2 shallots, chopped
5 cloves of garlic, chopped
1 cup fresh tomatoes, chopped
2/3 cup fresh parsley, chopped
3T fresh basil, chopped
1/2 t red pepper flakes, optional
1/4 cup The Furies EVOO
2T butter
4T white wine
1lb linguine
Instructions: 
Clams can be sandy.  Scrub each clam under cold running water.  Place clams in a bowl of cold water for 15-20 minutes.  Soaking them clams releases trapped sand.  Discard any clams that are open before cooking  To tell whether a clam is still alive by tapping it's shell.  It should close again when tapped. 
Bring pasta water to a boil.  Prepare all chopped vegetables and herbs while the pasta water is heating and clams are soaking.  Have an extra bowl on hand so that as clams are cooked and open you can remove them from the heat as the sauce is reduced and the rest of the clams cook. 
Begin cooking pasta as you make the clam sauce.  Time the pasta to be al dente. Reserve a small cup of pasta water to add to sauce if needed. Do not rinse the pasta.  
Over medium heat, saute shallots and garlic in the EVOO and butter until slightly browned. Stir in tomatoes and white wine.  Add the clams.  Cook covered for approximately 5-7 minutes. 
As clams open, remove them to a bowl.  They will open at different rates.  Discard any clams that do not open. 
Add cooked pasta and herbs to sauce and cook for a minute.  Add reserved water if needed.  
Return clams to the pot and reheat for another minute.  
Serve and enjoy!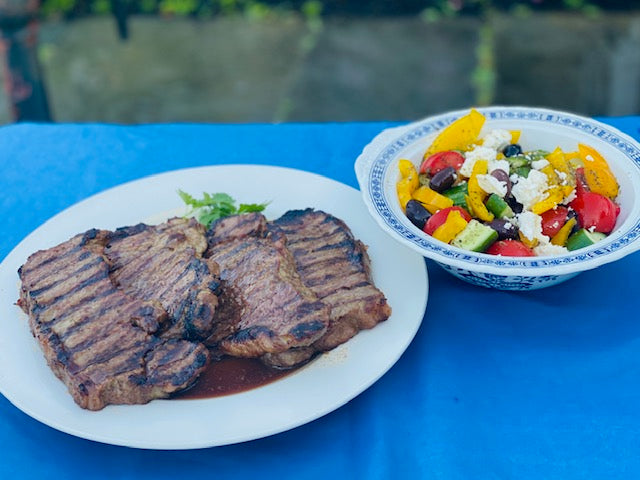 Fish Tacos! Blackened Mahi-Mahi
What is more fun than Taco Tuesday?!  Once you make homemade fish tacos with fresh salsas you will never go back.  We keep a couple of packages of Trader Joe's frozen mahi mahi in the freezer to ha...
Read more